AskSensors IoT Platform Documentation
Control Hardware with AskSensors over HTTP/HTTPS
Control AskSensors Actuators Summary:

After the big success of the ESP8266, the ESP32 is a new chip from Espressif that combines WiFi and Bluetooth wireless capabilities with two CPU cores and a decent hardware peripheral set.

This section shows how to send commands to your ESP32 device with AskSensors.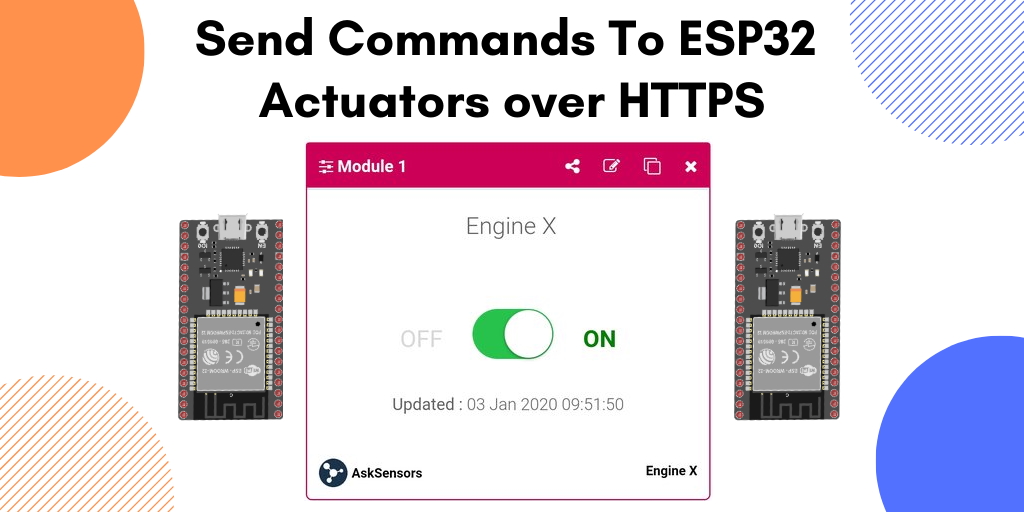 a) Prerequisites :
b) Required Material :
The hardwares needed in this section are:
Computer running Arduino software.
ESP32 development board.
USB micro cable to connect ESP32 development board to the computer.
c) Install ESP32 in Arduino IDE:
If not done yet, follow the instructions below to install the ESP32 board in your Arduino IDE:
Install the latest version of Arduino IDE software (1.8.7 or higher).
Open the preferences window from the Arduino IDE : File> Preferences.
Go to the "Additional Board Manager URLs" field, Enter the following URL:

https://dl.espressif.com/dl/package_esp32_index.json
If you already have the ESP8266 boards URL, separate the URLs with a comma as show below:
https://dl.espressif.com/dl/package_esp32_index.json, http://arduino.esp8266.com/stable/package_esp8266com_index.json
Now, open boards manager (Tools > Board > Boards Manager), search for ESP32 and click the install button for the "ESP32 by Espressif Systems".
d) Required Software :
Install the Official JSON Library for Arduino: Navigate to the Sketch > Include Library > Manage Libraries.
Wait for Library Manager to download libraries index and updated list of installed libraries.
Filter your search by typing Arduino_JSON. There should be a couple entries. Look for Arduino_JSON by Arduino. Click on that entry, and then select Install.
Download this demo from the AskSensors Github page.
The code includes the libraries for both connecting to a WiFi network, perform HTTP GET requests to read commands from AskSensors and parse it from Json format. You need to fill the following:
Your WIFI SSID and password.
The Actuator device Api Key Out given by AskSensors.
The time interval between two successive reads.
const char* wifi_ssid = ".........."; // SSID
const char* wifi_password = ".........."; // WIFI
const char* apiKeyOut = ".........."; // Actuator API KEY OUT
const unsigned int readInterval = 10000; // read interval (in ms)

e) Run the code :
Connect your ESP32 board to the computer via serial/USB and upload the code using the Arduino IDE. The code will be running automatically after Reset.
Return to the AskSensors web appplication, open your actuator devices workspace and send commands to the actuator module that your ESP32 reads data from.
Open a serial terminal in Arduino IDE. You can cross-check the ESP32 terminal reading with the values being sent from the AskSensors Application.
f) Source Code :
A basic source code is shown below. Please refer to the
AskSensors Github page
to get the latest version and updates.
/*
Control ESP32 actuators with AskSensors
* Description: This sketch reads commands from AskSensors cloud (https://asksensors.com) using an ESP32 Wifi module.
* Author: https://asksensors.com, 2020
* github: https://github.com/asksensors
*/
#include &ltWiFi.h&gt
#include &ltWiFiMulti.h&gt
#include &ltHTTPClient.h&gt
#include &ltArduino_JSON.h&gt

WiFiMulti WiFiMulti;
HTTPClient ask;
// TODO: user config
const char* ssid = ".................."; //Wifi SSID
const char* password = ".................."; //Wifi Password
const char* apiKeyOut = ".................."; // Actuator API KEY OUT
const unsigned int readInterval = 10000; // read interval (in ms)

// ASKSENSORS API host config
const char* host = "api.asksensors.com"; // API host name
const int httpPort = 80; // port
void setup(){

// open serial
Serial.begin(115200);
Serial.println("*****************************************************");
Serial.println("********** Program Start : ESP32 reads commands from AskSensors.");
Serial.println("Wait for WiFi... ");

// connecting to the WiFi network
WiFiMulti.addAP(ssid, password);
while (WiFiMulti.run() != WL_CONNECTED) {
Serial.print(".");
delay(500);
}
// connected
Serial.println("WiFi connected");
Serial.println("IP address: ");
Serial.println(WiFi.localIP());
}

void loop(){

// Use WiFiClient class to create TCP connections
WiFiClient client;

if (!client.connect(host, httpPort)) {
Serial.println("connection failed");
return;
}else {

// Create a URL to read data from module 1
String url = "http://api.asksensors.com/read/";
url += apiKeyOut;
url += "?module=module1";
url += "&maxResults=1";

Serial.print("********** requesting URL: ");
Serial.println(url);
// send data
ask.begin(url); //Specify the URL

//Check for the returning code
int httpCode = ask.GET();

if (httpCode > 0) {

String payload = ask.getString();
String command_value;
Serial.println(httpCode);
Serial.println(payload);

Serial.print("********** Json parsing ");
JSONVar askObject = JSON.parse(payload);
Serial.println(askObject);

// JSON.typeof(jsonVar) can be used to get the type of the var
if (JSON.typeof(askObject[0]) == "undefined") {
Serial.println("Parsing input failed!");
return;
}

Serial.println("********** Read Actuator Command from AskSensors ");

// read command value
if (askObject[0].hasOwnProperty("value")) {
command_value = (const char*)askObject[0]["value"];
Serial.print("Command value: ");
Serial.println(command_value);
}
// read date
if (askObject[0].hasOwnProperty("date")) {
Serial.print("Updated date: ");

Serial.println((const char*)askObject[0]["date"]);
}

} else {
Serial.println("Error on HTTP request");
}

ask.end(); //End
Serial.println("********** End ");
Serial.println("*****************************************************");

}

client.stop(); // stop client
delay(readInterval); // delay
}